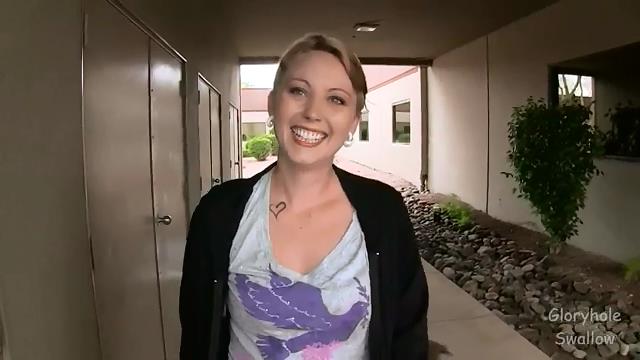 Имя актрисы: Kerry
Название ролика: Kerry's 1st Glory Hole Visit
Год производства: 2013 г.
Жанр: GloryHole, Blowjob, Cum Swallow
Описание: Kerry is one of those girls that thought it would be fun to suck off a bunch of random cocks at the Glory Hole but quickly realized that some of these guys don't cum all week just to unload in someone's mouth at the Glory Hole. That first load caught her off guard and gave her a little taste (no pun intended) for what was about to come (again, no pun intended)! Let me back up a little here and give you an idea how this day started out. During the interview, I asked her about her relationship status as I normally do. At the time she seemed a little sad as you might notice by her facial expression and I thought it was because she just got out of a bad relationship or something but I later found out that her b/f was a pro motor-cross rider who was killed not long ago. I felt like a complete ass! In my defense, how could I possibly know. It's not like we rehearse this kind of stuff so anything can happen.
Anyway, she's a great girl and I applaud her for wanting to try the Glory Hole. She admits that she's sub and enjoys being treated like a sex toy for pleasure which I always think is pretty damn cool. She obviously has something going on in that mouth of hers because I never saw guys cum as fast as they did when she was going to work on them. When she started sucking, she didn't stop until she got the prize!
Kerry's 1st Glory Hole Visit.mp4
Kerry's 1st Glory Hole Visit.HD качество