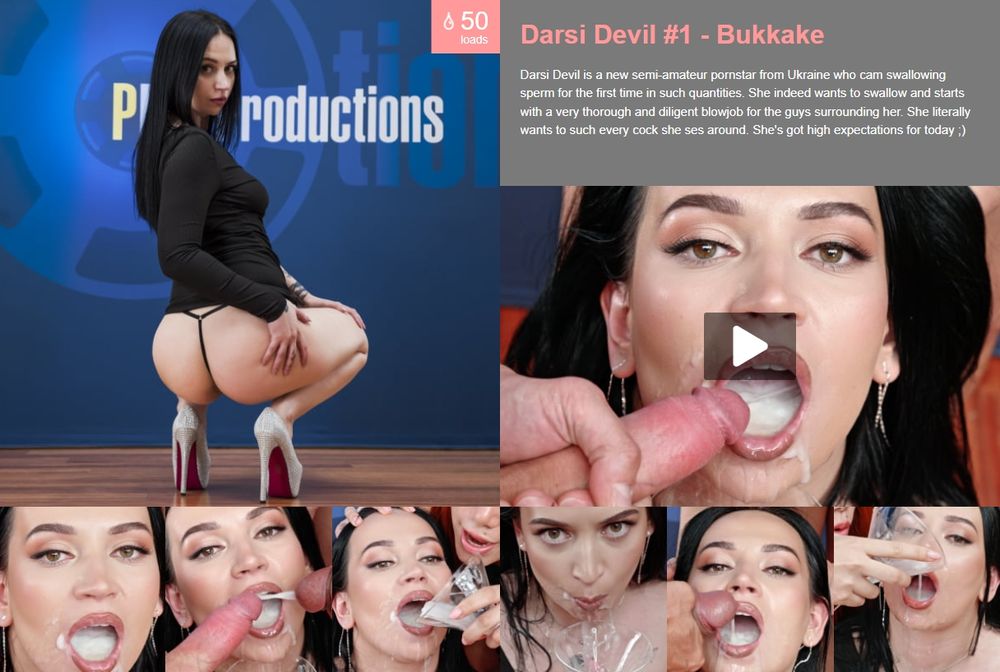 Production date: 2022
Genre: Bukkake, Gokkun, Blowjobs, Cumshots, Swallow
Duration: 00:22:31 + 00:07:51 + 00:12:48
Video: MPEG4 Video (H264) 1920x1080 50fps 10017kbps [V: VideoHandler [eng] (h264 high L4.2, yuv420p, 1920x1080, 10017 kb/s)]
Audio: AAC 48000Hz stereo 98kbps [A: SoundHandler [eng] (aac lc, 48000 Hz, stereo, 98 kb/s)]
Description: Darsi Devil is a new semi-amateur pornstar from Ukraine who cam swallowing sperm for the first time in such quantities.
She indeed wants to swallow and starts with a very thorough and diligent blowjob for the guys surrounding her.
She literally wants to such every cock she ses around.
She's got high expectations for today!
When jizz gets unloaded, she's fully ready.

The first loads spurt suddenly but Darsi is able to catch them.
She doesn't expect such a powerful cum pressure from the very beginning and gets very surprised but pleased in the same time.
Her first gulp goes with efforts but she continues with the same pace.
Darsi manages to handle cum in her mouth quite steadily and the following gulps are taken by her with signs of relief, as if the cum kicks in, relaxing her.
However, sudden facial spurts add vivid reactions and the further Darsi gulps, the harder it gets for her.
Eventually, she opens up a new genre for herself today.
Interview before Bukkake
Darsi Devil has a very specific taste of humor and actually she's a very talented and artistic girl, and besides that she's become a porn actress recently.
Combining her talents together, she doesn't mind tasting a glass of cum with three loads and she thinks she'll handle the whole bukkake, judging by this little glass!
Bukkake - Behind The Scenes
Darsi is one of those girls who merely don't need makeup.
Although she's very serious about everything and about her look as well.
When she poses for a photo session, she wants to look great and puts a lot of efforts in posing.
This allures some guys and so Darsi's going to gulp a load from a guy who was around.
She keeps the cum on her mouth, shows it and gulps with signs of pleasure, still seriously.
But after she's swallowed wholesome 50 loads of cum in her first bukkake, she instantly agrees for a goodbye load and makes a vivid and passionate blowjob only to swallow it quikly and leave us in anticipation of her return.
Hotlink
PB_darsi_devil_1_bukkake.mp4 - 1.6 GB
PB_darsi_devil_1_bukkake_bts.mp4 - 699.8 MB