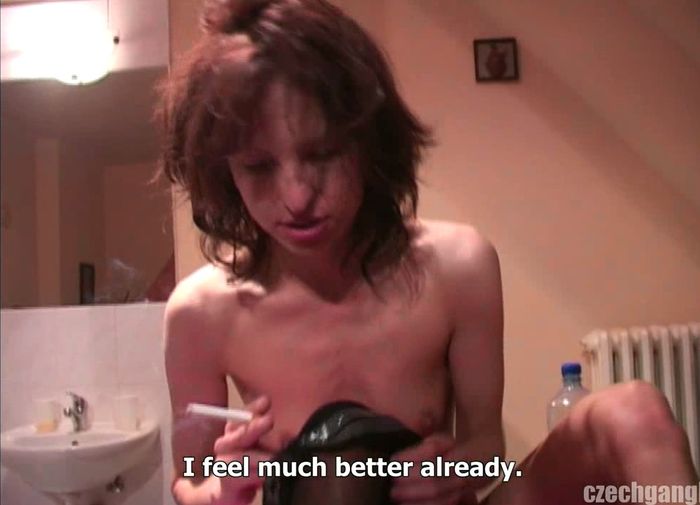 Год производства: 2012 г.
Жанр: All Sex, Amateur, Orgy, POV
Продолжительность: 00:35:44
Описание: At our first gang bang event, anyone could come and cover this beautiful Czech girl with cum. More than 100 guys arrived and unleashed a bareback storm of ass and pussy-ripping action! She had a dick in her mouth the whole time, swallowing it all like a good girl. In the end, the guys started fisting her too. Her only respite were two short smoking breaks, but then it was back into the mass of dicks! This is a great start to a great project, gentlemen. Enjoy!
Формат видео: WMV
Видео кодек: Windows Media
Аудио кодек: WMA
Видео: 1280x720, 25 fps, ~2912 kbps
Аудио: 48 kHz, Stereo, 128 kbps
CZECH GANGBANG 1.wmv - 811.45 MB
Other parts are also restored. You can see in the themes or here
CZECH GANGBANG 10.wmv - 624.02 MB
CZECH GANGBANG 11.wmv - 854.35 MB
CZECH GANGBANG 12.wmv - 603.38 MB
CZECH GANGBANG 2.wmv - 575.54 MB
CZECH GANGBANG 3.wmv - 535.28 MB
CZECH GANGBANG 4.wmv - 1.08 GB
CZECH GANGBANG 5.wmv - 1.33 GB
CZECH GANGBANG 6.wmv - 1.30 GB
CZECH GANGBANG 7.wmv - 642.62 MB
CZECH GANGBANG 8.wmv - 1.01 GB
CZECH GANGBANG 9.wmv - 787.77 MB