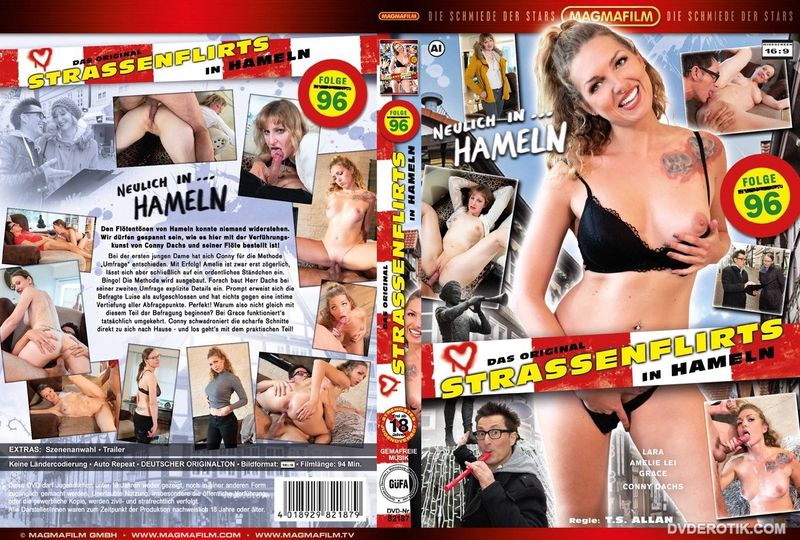 Studio: Magma Film Country
Added: 07/13/2020
Series: Strassenflirts
Director: T.S.Allan
Category: Amateurs, German, Gonzo, Reality Sex
Actors: Amelie Lei, Conny Dachs
Description: Nobody could resist the flute tones of Hameln. We can be curious how it is with the seductive art of Conny Dachs and his flute! With the first young lady, Conny opted for the "survey" method. With success! Amelie is hesitant at first, but finally lets herself into a proper serenade. Bingo! The method is being expanded. In his second survey, Mr. Dachs researches explicit details. The respondent Luise promptly proves to be open-minded and has nothing against an intimate deepening of all the questions asked. Perfect! So why not start with this part of the survey right away? It actually works the other way around with Grace. Conny sends the sharp cuts straight to her home - and off you go with the practical part!
Format : MPEG-4 at 1 288 kb/s
Length : 874 MiB for 1 h 34 min 52 s 54 ms
Video #0 : AVC at 1 163 kb/s
Aspect : 720 x 404 (1.782) at 25.000 fps
Audio #0 : AAC at 119 kb/s
Infos : 2 channels, 48.0 kHz
Hotlink
cic-strassenflirts96.mp4 - 873.69 MB
Takefile